Still couldn't find a way to watch your children or the elders when you are in busy or on duty? Or just need an easy solution for monitoring your office, store or garage? AirLive WN-200HD, with the Tiny-Cube size and wireless 802.11n network technology, it moves the "Surveillance" from a complex task to a Simply "Plug and Watch" job.
High Quality 2.0 MegaPixel Image
WN-200HD equips a 2.0 MegaPixel sensor for capturing high quality video stream. With this sensor, WN-200HD is capable to capture images up to 1600 x 1200 pixels resolution. One of the most compelling advantages of MegaPixel surveillance systems is the ability to capture more details in a frame and at the same time not missing any finer details that are useful for license plate identification and human recognition.
Full Feature 150Mbps Wireless N Camera
AirLive Wireless Internet IP Camera is designed for Home and Enterprise users to enjoy the security and home networking entertainment advantages. It is simple to use with plug-n-play installation and wireless operation so you can install the camera anywhere.
Easy to Install
WN-200HD is a tiny cube, light but full featured IP camera. It can be easily mounted on the wall or ceiling and decrease the burden of cabling with its network function. Moreover, by using its build-in wireless network function, user can even omit the cabling issue in the initial planning stage. Intelligent IP Installer, the assistant utility for searching WN-200HD in the network, can speed up the installation with only few clicks on the computer.
Easy to Watch
WN-200HD takes full advantage of the network technology nowadays. By its build-in Web interface, monitoring is as simple as surfing on the Internet in our daily life. WN-200HD supports most popular web browsers included the Internet Explorer, Firefox, or even the one came with your iPhone. Once connect WN-200HD to the Internet, user can receive its video anytime, anywhere as long as he can access to the Internet.
Windows-based and Web-based Monitoring Utility
The Web-Based configuration allows users to make the configuration including the image monitoring, recording images to a hard drive,snapshots and many others via Intranet/or Internet in real time!
Kamera obsługuje FTP, TCP / IP, SMTP, HTTP i wiele innych protokołów internetowych do zdalnego nadzoru. Inteligentne wykrywanie ruchu aż do 10 stref umożliwia optymalną wydajność wykrywania wideo, robienie zdjęć i wysyłanie tych zdjęć na e-mail w formie powiadomienia o zdarzeniu. Dzięki wysokiej czułości matrycy CMOS, WN-200HD gdziekolwiek zainstalowana, dostarcza najwyższą jakość obrazu.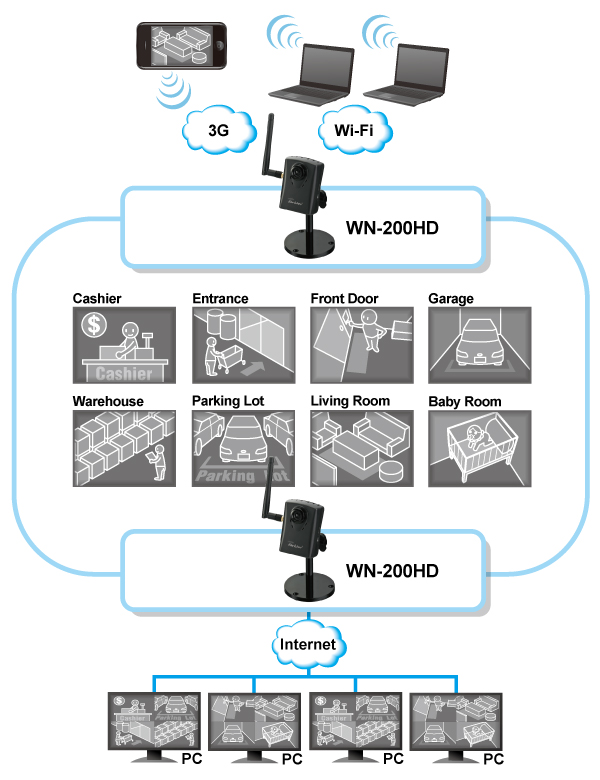 H.264 to standard kompresji o wysokiej wydajności, który zapewnia znacznie wyższą kompresję danych niż MJPEG lub MPEG-4, znacząco obniżając rozmiar plików jak i zużycie cennego pasma i miejsca na dysku. Przy użyciu H.264 rozmiar pliku ulega zmniejszeniu nawet o 90%, dzięki czemu obraz zajmujący normalnie 1MB można zmniejszyć do 10KB. WN-200HD działa wg tej technologii umożliwiając tym samym redukcję kosztów przechowywania materiałów Video.
Versatile Application
The camera supports FTP, TCP/IP, SMTP, HTTP and many other Internet related protocols for remote surveillance. Intelligent motion detection up to 10 zones enables optimal performance of video detection by capturing images and sending those images for e-mail notification. With high sensitivity CMOS sensor, the WN-200HDconstantly delivers superior image detail in most environments.
H.264 Video Compression
H.264 is a high performing video compression standard that boasts a much higher compression ratio than MJPEG or MPEG-4, drastically reducing file sizes and conserving valuable network bandwidth and storage space. With up to 90% reduction in file size, a 1 MB image can be drastically reduced to as low as 10KB using H.264. WN-200HD adopts this technology, and provides a more economical way to utilize your storage space. It is an important function to make continuous video recording possible.
Support 2 Ways Audio
The WN-200HD Internet Camera takes video surveillance to another level by using 2-ways audio. By connecting a powered speaker to the camera, you can now remotely talk to anyone at your camera site. And it also comes on the build-in microphone, so you can also hear the voice via the camera.
View from Mobile Phone
WN-200HDcan delivers its video to the mobile phone via 3GPP function. Via this function, user can monitor his property through the 3G or 2.5G mobile network remotely. This is very useful when you are on your journey or business trip. What's more, user can also use the build-in browser of his smart phone, like the Safari of iPhone, for monitoring. By the Wi-Fi connection, WN-200HD and your mobile phone can play the role as the Baby Monitor.
AirLive CamPro Mobile for iOS and Android
AirLive has released the CamPro Mobile apps for both iOS and Android system. It supports most of AirLive IP Cameras for live viewing and also supports two-way audio, snapshot and movement controls on PTZ cameras. You may download the software from App Store or Google Play. Please visit our FAQ page for more information.